Top




One of TJ's career highlights was an invitation from his pal, Dusty Rogers (Roy Rogers, Jr.), to see the Roy Rogers' museum, meet Roy and perform some harmonica magic for him.

"When I got to meet Roy, it was about three or four days before his 86th birthday. The Hohner Harmonica Co. and I got together and gave him an engraved harmonica that reads: "To Roy Rogers, Happy Birthday and Happy Trails to You", TJ Klay and Hohner Inc.



TJ playing Happy Trails
When he recognized what I was playing, he came over and put his arm around me and started to sing along.
(I about wet my pants!).
Because of the engraving process and availability of certain keys it was about 10 weeks before he received it. As a result of the late arrival, it would be the last birthday presents he received, as he rode off into the sunset less than a year later.

The harmonica is now on display, along with a harmonica that Roy received from his dad, in the Roy Rogers- Dale Evans Museum located at 15650 Seneca Road, Victorville, CA (tele: 760-243-4548, web site: www.RoyRogers.com).

Meeting Roy Rogers provided the inspiration for "Heroes Like You", a tribute to the nation's greatest singing cowboy.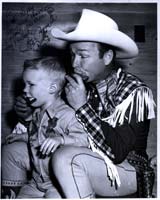 Heros Like You
by Glenn Ashworth and T.J. Klay

We followed you down dusty trails
Every Saturday
And we watched in awe
How you never let the bad guys get away
We'd sit around the campfire
As you sang your cowboy songs
And as you rode off into the sunset
We weren't afraid to ride along ...

(Chorus)
The world could use a few more
Hero's like you
To touch our hearts each week
And impart a thing or two
You taught us not to run from right
You said sometimes you gotta stand and fight
The world could use a few more
Hero's Like You

Today we see a thousand different shades
Of right and wrong
And no one knows just where they stand
Or where the line is drawn
But you just saddled up
Rode out and did what's right
What I wouldn't give to tag along
Once More in Black and White...

(Bridge)
And I still hear you sayin'
"Let your aim be straight and true !!"
And the older that I get
The More I Want To Be Like You

this song may not be reproduced in any way without the expressed written consent of TJ Klay and Sporting Klay's Music

Autographed and Matted Copies of "Hero's Like You"
Will Be Available Soon!!!