---
NEW The Grand American Back to top

The "Grand American" is a cd single. It was inspiried by the life of trapshooter Franklin D. Kelsey. He was a drummerboy in the Civil War and shot in the very first Grand American in 1900 and tied for 9th place in the handicap event. It also speaks of the rich heritage & the historic tradition wehave in one of our nations greatest shotgun events.
The Grand American
The Ballad of OL' Johnny D.

Song Samples
Coming Soon
300kb or seconds to download on a 28.8 modem
---
NEW Right On Target

Back to top

Right On Target is T.J.'s latest release. It is a collection of instrumental songs.
You Are My Sunshine
Sioux City Sue
Yesterday
Swing Low
Orange Blossom Special
Walking After Midnight
T.V. Medley
Leaning On The Arm
The Devil Went Down To Iowa


Song Samples
You Are My Sunshine
Walking After Midnight
300kb or seconds to download on a 28.8 modem
---
Keep On Harpin'

Back to top

Keep On Harpin' is T.J.'s fantastic instrumental album. It is an exciting collection of instrumentals of both new original songs, and renditions of some timeless classics.
Wish Upon A Star
Jolly Rancher Rag*
Somewhere Over The Rainbow
Poor Wayfarin' Stranger
God Is My Refuge
Golden Mel*
In The Secret Of His Presence*
Klaydough*
Do You Hear What I Hear?
Year Of Jubilee*
Shenandoah
500 Miles
Theme From Night Court
* indicates original song
Song Samples
Jolly Rancher Rag
Klaydough


300kb or seconds to download on a 28.8 modem

---
Western Flyer

Back to top

Western Flyer's first album featuring T.J.Klay on backing vocals, mandolin, harmonica and acoustic guitar.
Western Flyer
She Should've Been Mine
His Memory
Cherokee Highway
I Would Give Anything
Friday Night Stampede
Liar's Moon
A Hundred Others Like It
The One Who Understands
Pathway To The Moon

---
Western Flyer-Back In America

Back to top
Western Flyer's Second Album Back In America features the Smash Hit What Will You Do With M-E !!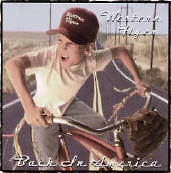 Back In America
Lost In You
Wish You Were Here
Surrender
I Know Where Your Comin' From
What Will You Do With M-E
New Tin Roof
She Wants To Be Wanted Again
Less Than A Minute
Black And Blue
Rhythm Of The Highway
Sixteen Tons

---
Videos
Western Flyer
Harmonica Solo
Hero's Like You
Humorous Harmonica

Back to top